I am a member of the Collective Bias Social Fabric Community. "Five tips on how to host a party" has been compensated as part of a social shopper amplification for Collective Bias and its advertiser. #TheOtherBowl #CollectiveBias 
https://r.curalate.com/v2/widget/pfKgdCdKQ9CKagnd9zY3jBU1NoWuj9IH?shopButtonText=Buy%20Now!&replaceTabs=false&autoShowProducts=false&spatialTagIcon=tag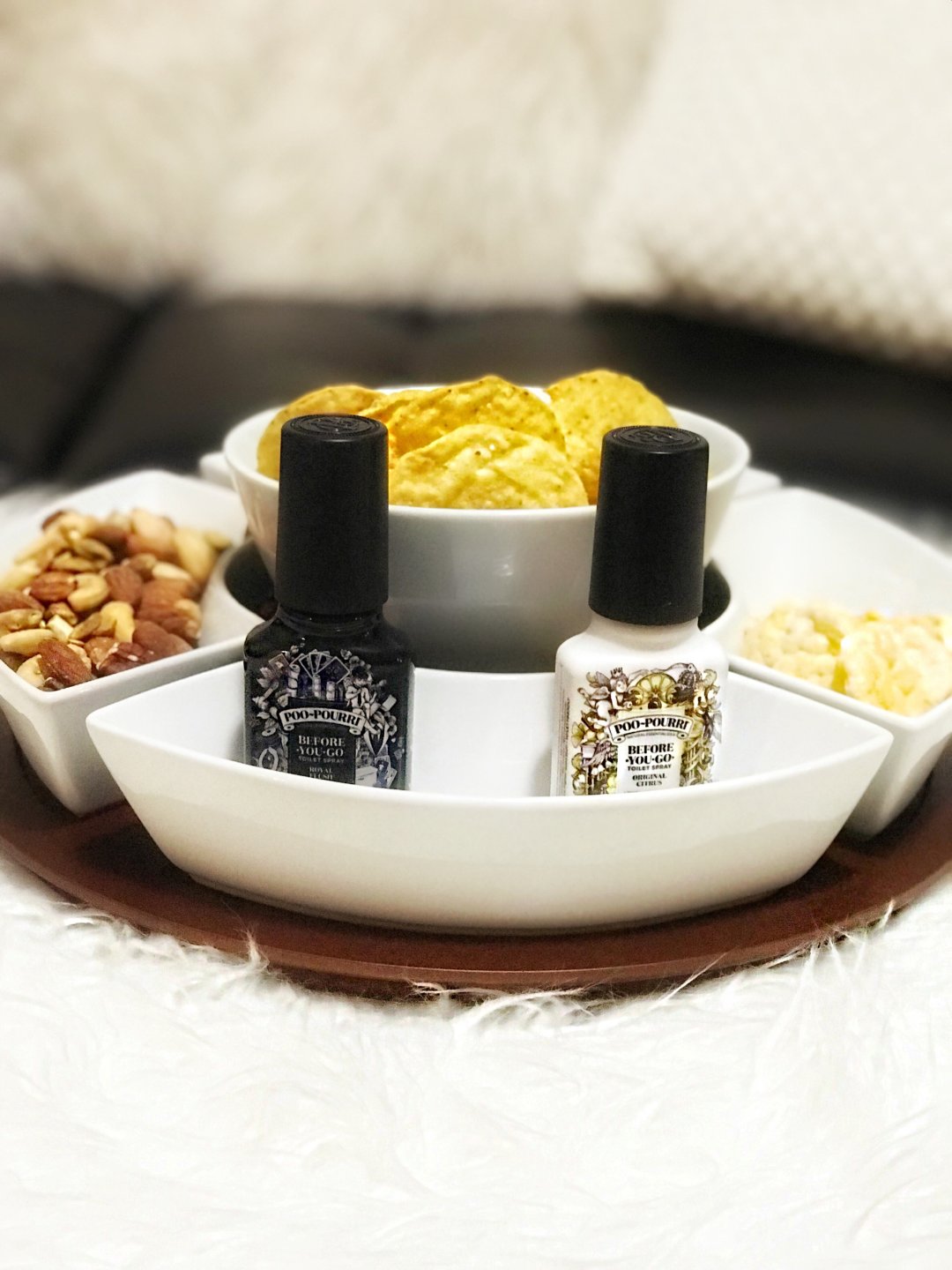 https://d30bopbxapq94k.cloudfront.net/js/curalate-widget-client-all-v3.min.js
Click the Image to Shop
I am so excited for the Big Game! Sports are a huge thing in our household. When Jordan and I were first looking to buy our home, it was so important that it would have a floor plan that would allow us to entertain. We love throwing parties and having fun get togethers.
With that being said, I am no expert at entertaining. However, I have found ways to make your party more comfortable for your guests. I picked my top five to share with you.
Number 1: Bathroom ready…
Three things must be in the bathroom to make your guests more comfortable. Extra toilet paper, a plunger & most importantly "Poo~Pourri". "Poo~Pourri" is a blend of essential oils that you spritz in the toilet before you go. It creates a film on the surface of the water that traps your stink under the surface! This product will help your guests feel more at ease when going to the bathroom.  I purchased the Before-You-Go® Royal Flush®Toilet Spray & the Before-You-Go® Original Citrus Toilet Spray online, as seen below.
Number 2: Welcome guests with a drink…
 There is something about having a drink in your hand that eases social awkwardness.
Number 3: Have music playing…
A little background noise will go a long way! No need to blow the speakers, just something light will do. However, in this case instead of music I will have the sports game on. The T.V. will create an inviting ambiance for the guests.
Number 4: Convenient Food…
You never want your guests to have to ask the dreaded question, "What's that!?" Make sure your food choice options are self explanatory, easy to grab and have variety.
Number 5: Designated eating areas…
 Don't trail your guests with a drop cloth, avoid that by not putting food in areas where you are anxious about a spill. People tend to eat where the food is placed. If you are worried about your white rug getting stained, then arrange your food in a different part of your home.
What are some of your hosting party tips? Have you thought of prepping your bathroom bowl as well as the chip bowl? Have you ever used "Poo~Pourri"?
XOXO JNESS